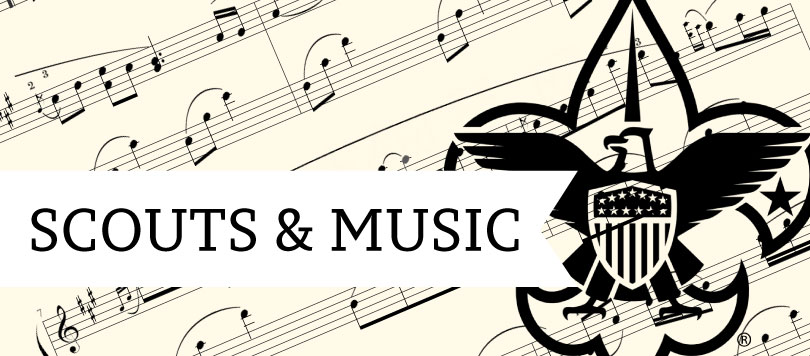 As an adult, it's gratifying when you see the youth take an interest in something that you have a passion for. In my life outside of Chesbro Music, I have several different passions and hobbies that I pursue. One of which is being a volunteer leader for a local troop in the Boy Scouts of America.
While I've never concealed the fact that I work for Chesbro's, I've also never pushed the issue with the scouts. It's a youth-led program, after all, and we encourage them to choose activities that they are interested in and want to learn more about. Last year, while sitting in on one of their planning sessions, they chose music as one of the monthly themes but were having a hard time coming up with weekly activities to fill the month with. When they asked for some ideas from the adult leaders, I suggested that our retail team at Chesbro Music could bring several different instruments, share information about them, and even allow the scouts to try them out. They loved the idea and their first instrument "petting zoo" was scheduled.
That first experience was a success. These petting zoos are not a new concept as our retail team has done them for local schools. Chris Kasper was fantastic and answered all the questions that the scouts had. A couple of the scouts even brought their own guitars in to show them off and share their skill with their peers. The scouts were a bit timid at first but quickly became interested when the time to try each instrument arrived. Needless to say, it was difficult to carry on a conversation in that room.
Fast forward a year and the scouts again chose music as a monthly theme. Over that time, we had some scouts leave and some new ones join. They immediately asked if I could arrange to have Chesbro Music come and present another petting zoo. The retail staff was happy to participate again. This time around, Chris brought more instruments and some more help. Chris covered all of the woodwind and brass instruments while Makayla covered the string instruments. The scouts had more questions and had even brought more of their own instruments in the form of both acoustic and electric guitars, ukuleles, a saxophone, and even a duck call. Again, any sort of conversation in that room was impossible at anything less than a shout.
Chris, Makayla, and I, armed with sanitizing spray for the mouth-blown instruments, helped the scouts with the instruments as they went around and tried them all out. Even some of the other leaders and parents in attendance even got in on the testing action. Some of the younger scouts approached me and asked if there was a music related merit badge that they could earn. I told them that there was and that if they were interested in learning about or earning it, we could definitely help them with that.
Scouting isn't all about camping, cooking, and survival skills, it's about teaching our future adults and leaders more about the opportunities that are available to them. Many of those experiences are outside of what they would normally consider. The Music and Bugling merit badge endeavors to instill a love for music in the scout that is working on the award. They must be able to sing or play a simple song demonstrating good technique, phrasing, tone, rhythm, and dynamics. Name the different groups of instruments and create an illustration that shows how tones are generated and how instruments produce sound. They also have a choice of several other requirements, one of which takes six months to complete. Additionally, it teaches about responsibility with intellectual property and how to legally obtain and share recorded music.
For those involved with youth groups around the Chesbro Music area, consider sharing music with the youth that you work with. I'm sure Chris and Makayla would be happy to work with you in sharing a passion for music and maybe sparking an interest that grows into a shared passion, if not a career. If you're outside the Chesbro Music area of operation, consider checking with your local music store to see if they will either come to your meeting area or if they can accommodate a group inside their store.
Music is a universal language that can touch the hearts and minds of anyone that listens to it. As mentioned earlier, several of the scouts brought in their own instruments and several of them take lessons from teachers here at Chesbro Music. It was exciting to see them share some of the talents they have with others. For those that hadn't tried to play an instrument before, it was fun to see the excitement in their faces as they coaxed the first few tentative sounds out of the instruments that they tried.