Chesbro Music Co. has been the moving force for music in Eastern Idaho for over one hundred years. When Horace Chesbro and his wife Ella moved to the Idaho Falls area in 1911, he brought with him these ideals: Hold yourself accountable. Foster music in others. Give back to the community.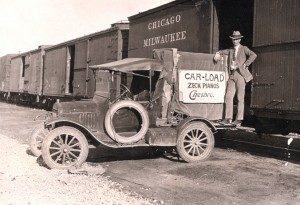 Today, Chesbro Music Co. is run by the fourth and fifth generation of the Chesbro family. Still family run by these ideals, Chesbro Music Co. is an anchor to downtown Idaho Falls with its retail and wholesale businesses that reaches out across the nation.
It is a destination worth seeing and shopping. Come see why we are the local music experts with our volume of sheet music in stock. Come see why our massive inventory of guitars feeds independent retailers across the nation. You can take a self-guided tour in our Idaho Falls store to learn about the history of music in Eastern Idaho.
From our modest beginnings delivering pianos in the back of Horace's Model T and starting band programs in the local schools, Chesbro Music Co. has grown to become one of the largest distributors of printed music in the U.S. and a major wholesaler and retailer of brand-name and private-brand guitars, musical instruments and accessories.
Whether you play music or listen to music; whether you want to take lessons or are performing tomorrow night; whether you are in the market for a new guitar or need some expert repair service done: Chesbro Music Co. is the place to visit in Idaho Falls and Rexburg, Idaho.